---
Atlanta Community Symphony Orchestra — Sunday January 21, 2018 at 4pm
Bloch: Three Pictures of Chassidic Life (1939) – Sergui Schwartz, violin
Vocal Selections – Cantor Lauren Adesnik, soprano
Dukas: Fanfare pour précéder La Peri (1912)
Dvorak: Three Songs from Biblical Songs, Op.99
Mendelssohn: On Winds of Song, Op. 34
Ravel: Two Hebraic Melodies: 1. Kaddish 2. L'Enigme eternelle
Childs: Song of Solomon: Set me as a seal upon your heart
Offenbach: Intermezzo and Barcarolle "Belle nuit, ô nuit d'amour" from "Tales of Hoffman
Offenbach: Olympia, Doll's Aria from Tales of Hoffman
Temple Emanu-El of Greater Atlanta
1580 Spalding Drive
Atlanta, GA 30350
(770) 395-1340
Click here to purchase tickets.
Please click here for a map to the church.
---
Centennial Book
We've worked diligently to prepare our Centennial History Book. Please be sure to purchase a copy! All proceeds will go towards supporting the various programs of the Atlanta Music Club.
Click here to order!
---
Young Performers Recital Series
We are excited by the great success of our Young Performers recital series! Please join us for fine performances by young artists!
Click here for details!
---
Musicale Series
Please join us for our upcoming musicales!
Click here for details!
---
Our Centennial Year Kickoff Concert at Atlanta Symphony Hall was a BIG success!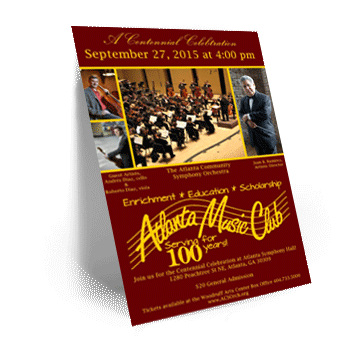 We hope you were able to join us on Sunday September 27, 2015 at 4pm in Atlanta Symphony Hall as we kicked off our Centennial Year Celebration with a superb concert by the Atlanta Community Symphony Orchestra (ACSO) under the direction of Maestro Juan Ramirez.Guest Artists included Andres Diaz, cello and Roberto Diaz, viola. Repertoire included Rossini, Tchaikovsky, Telemann, Fauré, Glazunov, and de Falla.
A fine opening performance was given by the Morehouse College Quartet!